A student at a northern California university has alleged that a professor sexually harassed and assaulted her after she confronted him about a bad grade.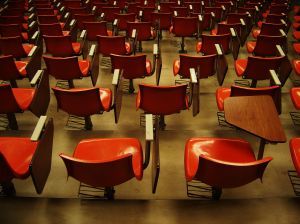 He reportedly admitted to inappropriate actions during the encounter, according to a recent report by investigative journalists, yet has not faced any administrative or criminal penalties.

Westminster Sexual Harassment Lawyer Houman Fakhimi knows many times, victims face an uphill battle in proving their claim. When they fail to get satisfactory results through appropriate administrative channels, it's time to reach out to an experienced legal representative.
In this case, it's not only about justice for what allegedly happened to this young woman, but also about protecting other young females from someone whose reported actions suggest predatory tendencies that could put other students at risk.
According to a report from the NBC Bay Area Investigative Unit, the problem started when the student showed up for a scheduled meeting to discuss a poor grade she had received from an adjunct professor the previous semester. She wanted to understand what happened.
She said when she arrived for the meeting, the professor told her that she had plagiarized a substantial portion of her final paper. She denies this, though she does admit she failed to properly cite a number of sources.
Rather than leaving it at that, the professor then reportedly turned to her and asked if she wanted to better her grade. The student alleges he then came close to her and began touching her, eventually straddling her and putting his hands up her shirt and under her sweater.
The encounter, which occurred after hours in a secluded part of the building, reportedly lasted for two hours. When the student got up to leave, the professor allegedly blocked her exit and refused to allow her to pass.
She eventually said she was able to break away and run down the stairs and out of the building. She contacted university police a few hours later to report the incident.
Initially, investigators were exploring charges of sexual battery and false imprisonment. However, the professor indicated that it was the student who had come on to him – something the student vehemently denies.
Essentially, it had become a he-said-she-said situation, and no criminal charges were filed. An administrative review reportedly resulted in no action as well.
This was despite the fact that the day after this reportedly happened, the professor wrote an e-mail to the student, apologizing for his "terrible mistake" and offering to change her grade from a D- to a B- "because it is the right way to handle this."
The professor later told administrators that there was touching and kissing that occurred between the two, but that it was a consensual encounter.
It's extremely troubling that there is acknowledgement from the accused that something untoward occurred, and yet, he has suffered no consequences. The university determined that even if the situation was consensual, the imbalance of power between a student and an instructor is such that a student may feel compelled to consent to activities she otherwise would not in order to attain success.
Professors are in a unique position over young, impressionable students. Exploitation of any kind is intolerable, and should be addressed swiftly and decisively.

Victims of sexual harassment in Westminster may contact Houman Fakhimi trial attorney at (888) 529-2188.
Additional Resources:
No Discipline for Professor Who Admitted Crossing the Line, May 10, 2013, By Tony Kovaleski, Liz Wagner and Jeremy Carroll, NBC Bay Area, Investigative Unit
More Blog Entries:
Los Angeles Yoga Instructor Accused of Sexual Harassment, Abuse, March 26, 2013, Westminster Sexual Harassment Lawyer Blog