Riverside Sexual Harassment Attorney Houman Fakhimi has learned that a Los Angeles city councilman and city controller hopeful, has announced his intention to audit the police department's risk management division in order to unearth an answer as to why so many officers are embroiled in litigation.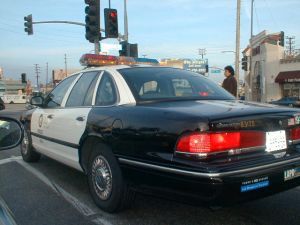 A good number of those cases involve claims of sexual harassment, many of which were substantiated. As we recently reported in our Rancho Cucamonga Sexual Harassment Lawyer Blog, two of those cases brought recently by lesbian officers resulted in a $1 million settlement.
But that's actually a small portion of the overall total. Councilman Dennis Zine says that the city has spent nearly $50 million on legal settlements in the past few years. Zine says many of these cases were avoidable, if only commanders had been more efficient in terms of policing their own ranks. Zine himself is a former Los Angeles Police Department officer.
While we admire Zine's tenacity in rooting out what is clearly a serious problem within the LAPD, it's interesting that in announcing his resolve, he makes no mention of a sexual harassment claim that was made against him back in 1997.
According to the Los Angeles Times, Zine was a sergeant at the time and he and another female officer were on a business trip to Canada. She was invited to attend a police competition with Zine as his guest in Canada. She believed the two to be platonic friends. She later alleged Zine had made inappropriate sexual advances toward her during that trip.
Zine would later defend himself by saying that not only were the claims exaggerated, but that the two had actually been dating.
The department conducted an internal investigation of the alleged incident, and ended up finding no proof of wrongdoing. Of course, proof may be difficult to come by when it's the word of a subordinate against a superior. What's more, the Los Angeles Police Department doesn't exactly have the best track record when it comes to handling these sorts of situations – as Zine himself is alleging.
It's also worth noting that a disciplinary board reviewed that internal investigation and said that while it may not have been able to find him guilty of any wrongdoing, he was given a verbal lashing for conduct that was indicative of "unbelievably poor judgment."
The officer who had initially made the allegation then filed a civil action against the department. We know that the city paid about $60,000 to defend against that claim, but Zine eventually reached an undisclosed personal settlement with the accuser.
Today, the councilman says his memory of the incident, the lawsuit, the details of the settlement – all fuzzy, conveniently. He says the important thing is that his conduct didn't occur at work and it didn't cost the city millions of dollars, like some other claims.
It's worth noting that whether or not inappropriate conduct between a superior and a subordinate actually happens at work doesn't matter. And a lower claim payout doesn't necessarily mean the allegations were any less legitimate.

Victims of sexual harassment in Riverside may contact Houman Fakhimi trial attorney at (888) 529-2188.
Additional Resources:
Zine vows audits of officer-involved lawsuits as L.A. controller, April 22, 2013, By Catherine Saillant, Los Angeles Times
More Blog Entries:
Sexual Harassment of Lesbian Officers Ends in Million-Dollar Settlement, March 31, 2013, Riverside Sexual Harassment Lawyer Blog