Our Newport Beach sexual harassment lawyers have written extensively about the widespread – and often ignored – problem of sexual harassment on college campuses.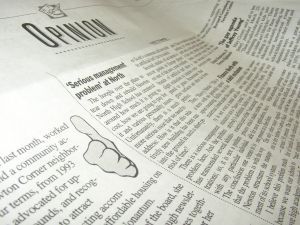 It continues to proliferate, in large part because administrators, faculty and advisers take advantage of a student's vulnerability, desire to please and succeed and lack of understanding about what constitutes sexual harassment and what rights they have to protect against it. In many cases, much like victims of sexual assault, college student victims will internalize the blame, assuming that they somehow brought it upon themselves.
What we try to help our student clients understand is that they should not under any circumstances feel responsible for the inappropriate or illegal actions of someone else, particularly someone who tried to use their power to exploit someone in a lesser position for purposes of their own sexual gratification.
One of the most recent cases of this involves a journalism student at a small college in Pasadena, who alleges that the adviser of the campus newspaper made repeated unwanted sexual advances toward him. When the openly-gay student refused to submit to those advances, he claims the adviser retaliated by slashing his grades and refusing his newspaper entries.
In the suit, the student seeks $100,000 in damages – an amount the college's board of trustees has initially rejected. However, the faculty member in question remains on administrative leave pending the completion of an internal investigation into his alleged misconduct.
The faculty member had been adviser to the college newspaper for the last five years. When he was put on leave, an outcry was raised by both teachers and students, who alleged the action was taken due to the paper's critical coverage of campus leaders.
However, as it turned out, it had more to do with the adviser's alleged actions behind closed doors. For some time, the student says the professor responded to his work with positivity and praise. At one point, the adviser even asked him out for a beer.
But one day, the adviser called the student into his office and handed him a nude photograph of himself. He asked the student what he thought. The student, uncomfortable, twice changed the suspect. Disappointed, the adviser asked that the exchange be kept private.
After that, the student says the professor became highly critical of his work, often denying his articles entry into the final published version of the paper and handing him poor grades for work the student felt was above average.
The student said all of this forced him to stop attending the adviser's classes and seek treatment for headaches, stress, depression and anxiety.
The sudden about-face in the pair's working relationship is reportedly backed in e-mails, mark-ups on assignments and revisions on stories.
An attorney representing the adviser pointed to the man's tenured position and said that such allegations shouldn't warrant a leave of absence. But tenure doesn't make a professor above the law.
The allegations as described almost certainly amount to sexual harassment, and should be dealt with accordingly by both the college and the courts. Students should never be made to feel as if they don't have the right to speak up about such treatment.
Continue Reading